Five Stars for SLOW HAND by Victoria Vane
I have been reading Victoria Vane for years. I was completely drawn in by her historical fiction, THE HIGHEST STAKES and FORTUNE'S SON written under the name Emery Lee, and as I have mentioned here more than once, I adore her DeVere stories, fun romantic romps in Georgian England. So when her latest contemporary romance came available on Netgalley, I knew I had to get it.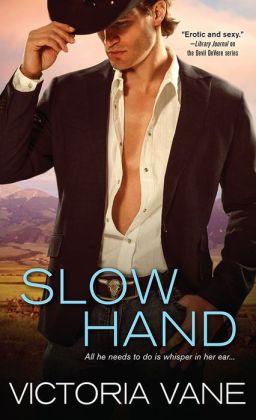 When I entered the world of SLOW HAND, I found myself immediately charmed by Wade, a handsome lawyer who works on his family's ranch in a desperate attempt to keep it going. It seems ranching is harder in the modern world, and the family ranch has more than one problem facing it. Though Wade wants his family to sell, he sticks by them as they fight to keep it, even riding into the high country to fetch down steers himself. All this was just icing on the cake for me.  I was sold as soon as  I found out he was a hot lawyer in cowboy boots…
I must admit that I liked Nikki Powell a bit less on our first meeting, but the poor woman had lost her estranged father, along with her wallet and all of her money. It did not take her long to win me over, and I was rooting for Nikki and Wade to get together. It was clear that they needed each other, whether they knew it or not.
I give five stars to Victoria Vane's first contemporary romance. The good news is, she has at least three more on the way.
 Summary:
 In rural Montana…
Wade Knowlton is a hardworking lawyer who's torn between his small-town Montana law practice and a struggling family ranch. He's on the brink of exhaustion from trying to save everybody and everything, when gorgeous Nicole Powell walks into his office. She's a damsel in distress and the breath of fresh air he needs.
Even the lawyers wear boots…
Nicole Powell is a sassy Southern girl who has officially sworn off cowboys after a spate of bad seeds-until her father's death sends her to Montana and into the arms of a man who seems too good to be true. Her instincts tell her to high tail it out of Montana, but she can't resist a cowboy with a slow hand…
BUY NOW: Amazon,  B&N,   Indiebound, Indigo,  Books-a-million,  i-Books